Vapalux and Bialaddin Pressure Lamps by Ian Ashton
Written by a respected collector the book contains 66 pages covering the evolution of Vapalux, BiAladdin pressure lamps,
made by Willis and Bates, from start till the end in 2010.
A great book and big help to identify your lamp.

Available from: Blurb

---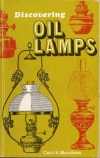 Discovering Oil lamps by Cecil Meadows
Written by the late Cecil Meadows the book contains 48 pages covering the evolution of lighting from 1500BC to the 1970's with emphasis on the 1900 to 1939 period.
Black & white drawings show oil lamps, burners and chimneys to aid identification.

Available from: Base camp - UK

---

Tilley lamps by Jim Dick
Tilley the versatile vapour lamp
The guide to the Tilley Lamp company and it's products, 104 pages of very readable and informative text with photos and illustrations.
Excellently written by Jim Dick with the help of Friends and Tilley themselves, a must for enthusiasts!

Available from: Base camp - UK

---

Pressure lamp catalogue by Neil Mcrae "the Tilley Doctor"
74 pages of text and B&W photos.
A COMPLETE listing of every known pressure lamp and lantern (and some additional products like irons and stoves), complete with many catalogue images and photographs, plus identification keys!
After 20 some years of research by Neil and his team of pressure collector friends, this truly International effort is published in July, 2001 for the benefit of "pressure freaks" and general collectors everywhere!

Available from: Base camp - UK or Lamp Guild - USA
Price: $20 US without shipping

---
Light and Heat From Hydrocarbon Appliances by Hermann Uddo Lahde
Portrait of an Industry
This is a valuable reference written as a labor of love by the late Dr. Lahde to share his extensive knowledge and experience in the development of kerosene lamps, lanterns, heaters and stoves. He explains the principles of hydrocarbon burners that have provided light and heat for millions of people around the world; and, he challenges engineers to continue improvement of hydrocarbon burning appliances.
He worked for Ehrich & Graetz from 1926 to 1945 prior to coming to America. The book has 206 pages in 20 chapters covering the basics of fuels and combustion, wicks, wick burners and mantles, lanterns, stoves, and gasolene appliances. It is a technical reference.
There are more than 288 detailed line drawings to illustrate Lahde's writing.

$44.00 plus shipping in/form the USA.
Available from: J.W. (Bill) Courter, brtknight a-t aol.com.



---

Chronik Leipzig Permoserstraße
"Zur Geschichte eines Industrie- und Wissenschaftsstandortes"
Content (german):
It is the history of the steep climb upwards of a big "Leipziger" and world wide operating company, Hugo Schneider AG, around the turn of the century and the first years of it, the very questionable roll in the war production with the labor prison camps Ravensbrück and Buchenwald during WW2.
The first 100 pages tell this story about Hugo Scheider or better known as HASAG.

Available from:
The book can be obtained at your lokal bookshop:
Titel: "Leipzig Permoserstraße. Zur Geschichte eines Industrie- und Wissenschaftsstandortes"
ISBN-Nr. 3-932900-61-8
Passage-Verlag Leipzig 2001
Publisher: UFZ-Umweltforschungszentrum Leipzig-Halle GmbH
Price: +/- 24,50 Euro

or directly via the UFZ:
Adres:
Bestellung UFZ
Presse- und Öffentlichkeitsarbeit
Permoserstraße 15
04318 Leipzig
e-mail: info@ufz.de
Price : shopprice + shipping 5,50 euro

---

Leuchtende Vergangenheit
German pictue book, 172 pages, about the lamp collection of Dr. Werner Touché,
Publisher: Hamaland Museum in Vreden
Available from:
Kreis Borken -Fachbereich 40-,
ISBN 3-927851-50-7



---

Dezember 1942, Jüdische Zwangsarbeiter bei Ehrich & Graetz.
This book tells the story of the around 500 jewish people that where forced to work at the factory of Ehrich & Graetz in Berlin during WW2.
Very informative literature of the story behind the scenes.
Available from:
Jewish museum Museum in Berlin,
ISBN: 3-8321-7839-2



---

Gasbronnen in Noord Holland by Douwe Bartstra,
Very nice informative little book in dutch about the history and developement of natural gaswells in the northern part of The Netherlands.
Many good pictures of appliances and drawing of installations
Due to the many pictures also good readable for non dutch lamp freaks.
Available from:
Vereniging tot behoud van de gasbronnen in Noord Holland.
ISBN 90-90-16912-1



---