Over de werking van lampen is vaak lang nagedacht. Het patent op het zogenaamde Hot Blast principe van John Irwin stamt uit 1860. Dit principe is bedoeld om de lucht voor verbranding te verwarmen.

De door de vlam opgewarmde lucht stijgt omhoog en wordt via het holle frame naar beneden en via een luchtkamer bovenop de olietank naar de branderkop geleid. Verse lucht wordt komt door de geperforeerde bodemplaat onder het glas. De vlam brand dus primair met verwarmde lucht. Hierdoor onstaat een stabielere vlam.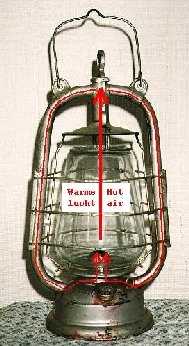 Mid 1860 John Irwin patented the Hot Blast principle.

This principle is based of warming-up of the air for the flame. Warm air goes up and is guided through the hollow frame via a airchamber to the flame. So the flame is burning with warmed air. This gives a stable flame even under cold conditions.